The multi-award winning Ai Infinity server is the perfect choice for your most demanding video projects. The RX4 and RX8 have programmable, EDID managed, WUXGA (1920x1200) outputs. Each is digitally amplified to give you a preview and production output over DVI. The back has in addition to the 4 or 8 DVI output pairs, the following outlets: LTC timecode input, 2 x Gigabit Network ports for connecting to Artnet networks, MIDI in & out ports, 4 lines of DMX512, Audio in and output, Genlock - essential for TV projects, and 2 x sync network connections to guarantee vertical sync across multiple systems.
The front 7 inch colour touch screen shows the Ai 3D visualiser, this gives you networked control of your whole show from one integrated and intuitive interface, no matter how many outputs you need.

The RX Range utilises an i7 processor with 6 cores running at 3.5Ghz. 16 Gbyte of memory and a fast 80GB System SSD. The Media content is contained on a 1TB PCIe NVMe Content drive. The workstation grade motherboard is housed in a purpose made suspension frame inside the 19" 4U height rack case.
The Ai R4 and R8 offer 4 and 8 display port/DVI outputs and up to 12 layers and 8 outputs depending on project configuration, with top spec, fully featured Miami licences.
Hardware includes the latest generation motherboards supporting PCI-Express Generation 3.0, AMD Gen 3 Graphics Cards and a 1TB PCIe NVMe Content drive.

Ai R4 & R8 servers offer MIDI Timecode inputs and supports ArtNet and CK Ki-Net output protocols.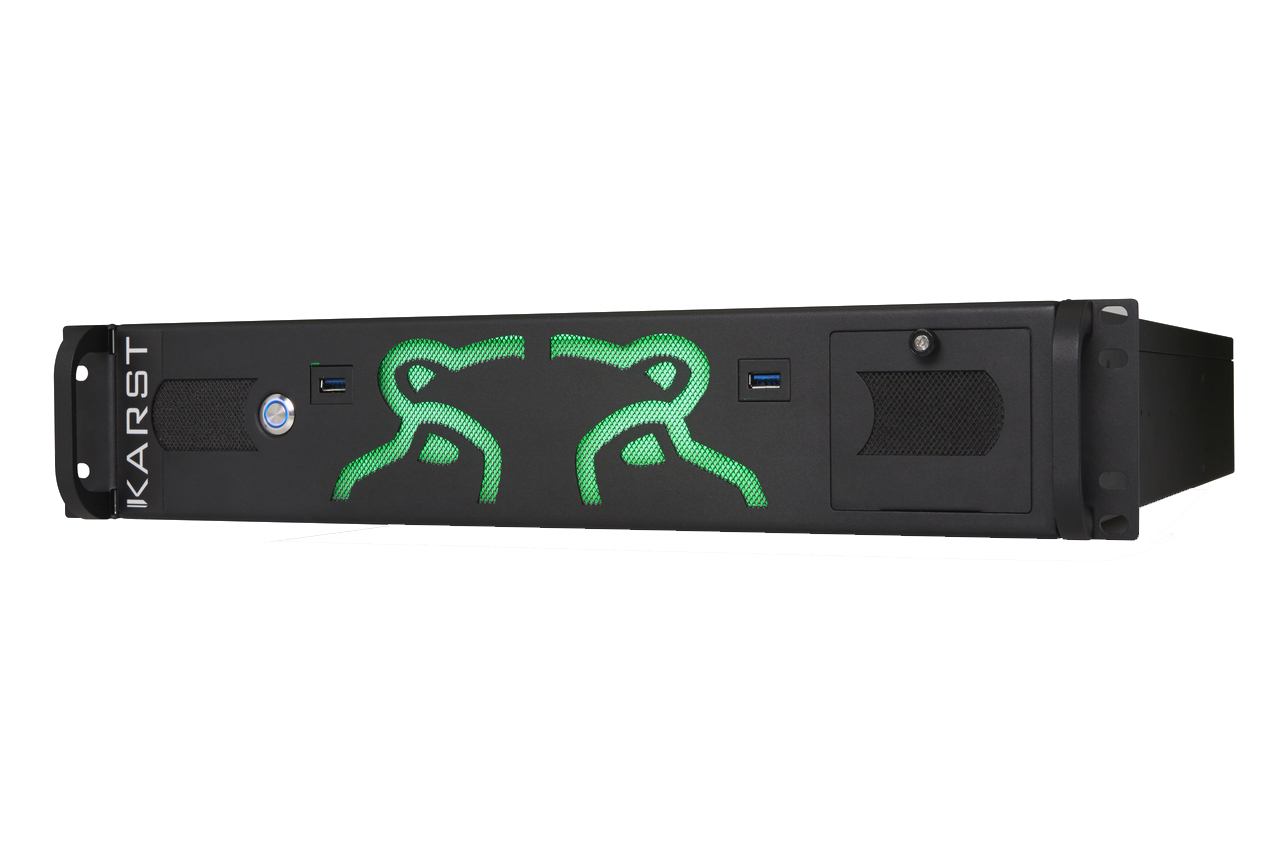 Featuring a total of 3 outputs, as well as two ZooKeeper monitor outputs, this highly specified server can drive the most demanding shows with ease.
At only 2 rack units high, the Hippotizer Karst+ (DVI-DL) packs 3 output two DVI outputs into a very small space while the third DisplayPort 1.2 connection offers the ability to drive 4K displays with a single cable. computer hardware to deliver unrivalled performance of server-class computer hardware to deliver unrivalled performance.
Our Laptop Mobile Systems, its a custom Laptop on a Carry on Case to be able to transport easily on planes, it doesn't have to be assemble or dissemble it offers 2 Displayport, 2 Dvi Outputs and 1 HDMI Output, together with 1 SDI Input.
Hardware includes a 1TB PCIe Nvme Content Drive, LTC and Midi Time code thru a Mif4 Interface, supports Artnet. It is the perfect solution to transport your big projects to a mobile project.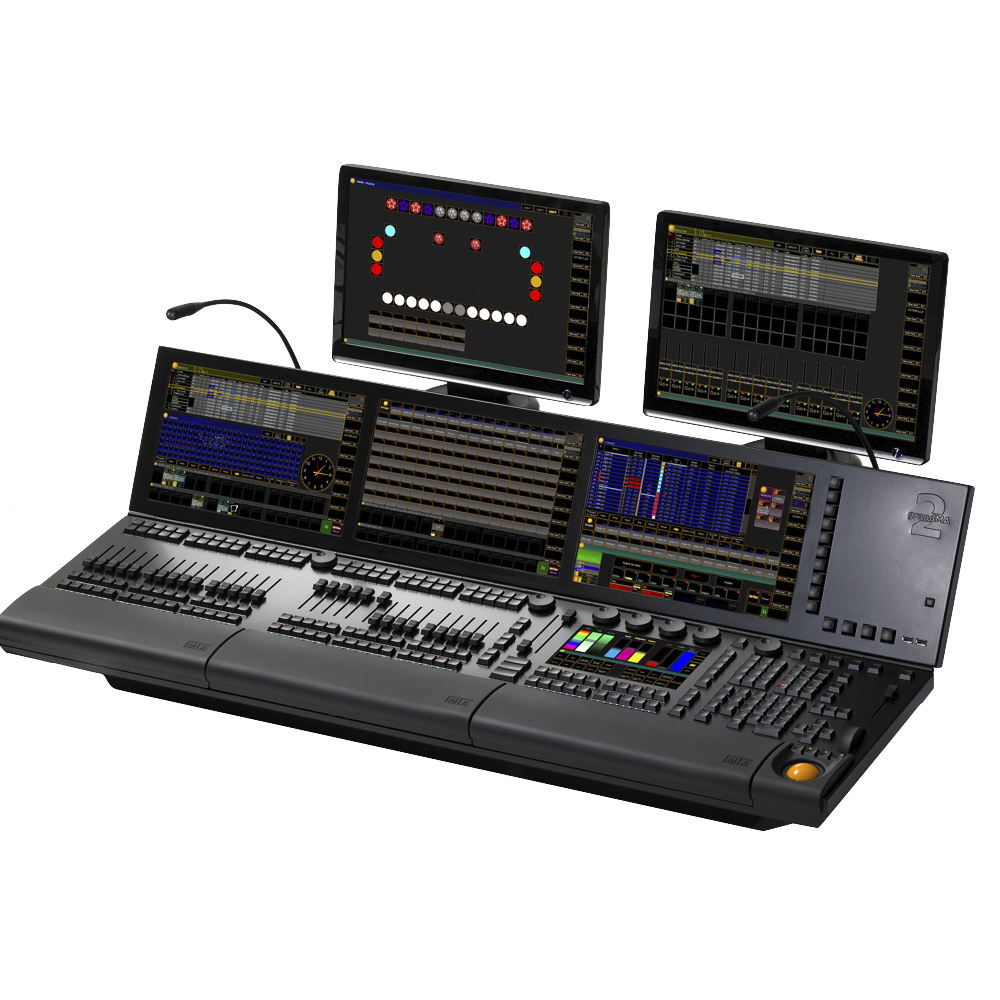 The grandMA2 full-size represents MA Lighting's most powerful console and offers the control of conventional light, moving lights, LED fixtures and media from one platform.
The MA onPC command wing paves the way for mobile use of the highly flexible and powerful grandMA2 control system. In combination with the free of charge grandMA2 onPC software, the MA onPC command wing is a portable 2,048 parameter control solution that can be used in nearly any location – and all for an affordable price! It offers two built-in DMX ports as well as the possibilty to send two additional DMX universes via Ethernet protocols with grandMA2 onPC.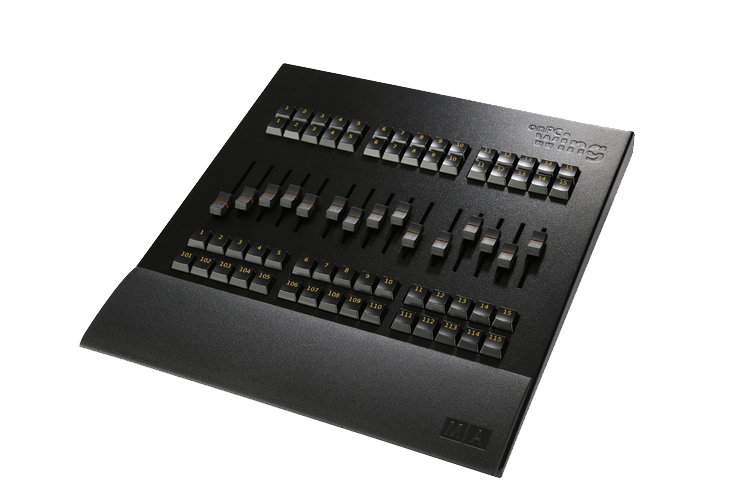 With the MA onPC fader wing, MA Lighting meets the requests for a mobile control solution that supplies real faders and executors in connection with the free of charge grandMA2 onPC software. Furthermore the MA onPC fader wing offers 2,048 parameters in conjunction with the grandMA2 onPC software that can be sent via its four built-in DMX-ports as well as via Ethernet protocols.
The MA NPU (Network Processing Unit) unites the calculation power in the network and offers the same performance as the grandMA2 consoles. The MA NPU offers and handles 4,096 parameters.